ThunderX3 UC5 HEX RGB Lighting Gaming Chair - Black/Cyan

---
---
ThunderX3 UC5 HEX RGB Lighting Gaming Chair - Black/Cyan
---
---
ThunderX3 UC5 HEX RGB Lighting
Gaming Chair - Black/Cyan
Inspired by Ultramodern design, the UltraChair is one of the most outstanding chairs in the market today. Designed to offer comfort during long gaming sessions thanks to its superior quality padding, it incorporates a detachable 7-mode RGB lighting module. The module's magnets can hold onto any metallic surface, such as your PC case or even your fridge.
High density foam for premium comfort.
Elegant leatherette with carbon-fiber looking finishings.
Recline 180°
BIFMA tested Class 4 gas-lift
3D adjustable armrests
Rocking mechanism
Adjustable seat height
Chair color: Black/Cyan
Chair size: L
Weight capacity: <150kg/330lbs
Height limit: <2m/6'7"
Colorlighting: HEX (7 colors module)
Foam type: High density foam
Frame type: Metal
Adjustable armrests: Yes, three-dimensional
Adjustable backrest: Yes, 90° – 180°
Mechanism type: Butterfly mechanism
Rocking mechanism: Yes, 3° – 18°
Rocking mechanism lock: No
Gas lift class & height: Level 4, max. 80mm
Base size & type: 350mm metal base
Caster size & material: 65mm nylon caster
Caster brake: No
Cover material: Leatherette with carbon pattern
Overall dimension (W x D x H): 71.5 x 61 x 129-137cm / 28 x 24 x 50.8-54in
Backrest dimension (W x T x H): 60 x 90 x 20cm / 23.6 x 35.4 x 7.9in
Seat dimension (W x D x H): 52 x 56.5 x 10-17cm / 20.5 x 22 x 3.9-6.7in
Product weight: 23kg/50.7lbs    
ALL-DAY COMFORT
A firm seat with superior quality padding equipped with a full-size back cushion and headrest will provide you all-day comfort and support.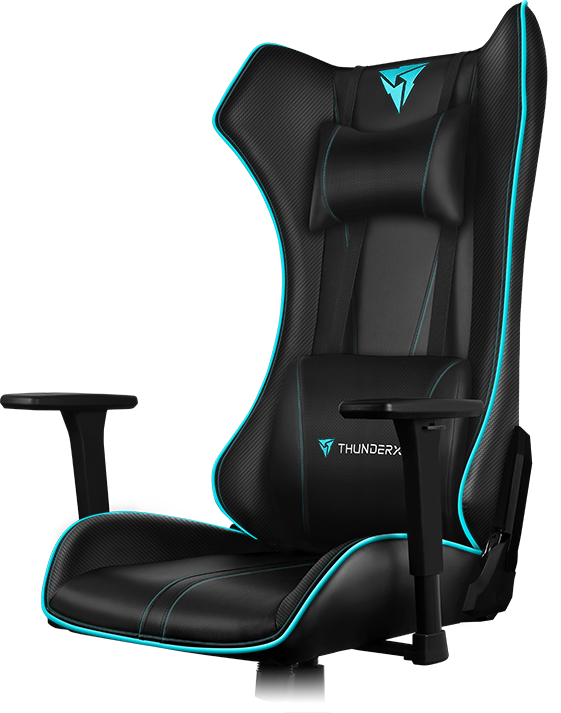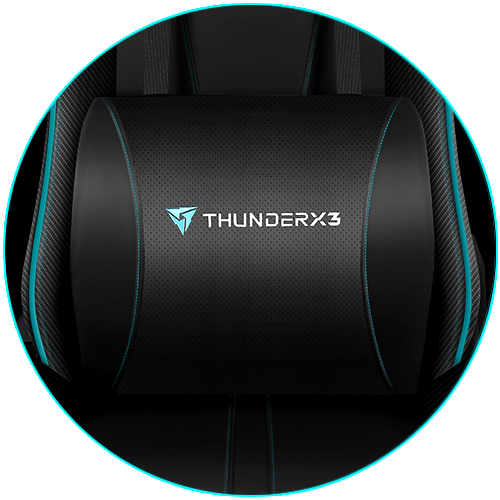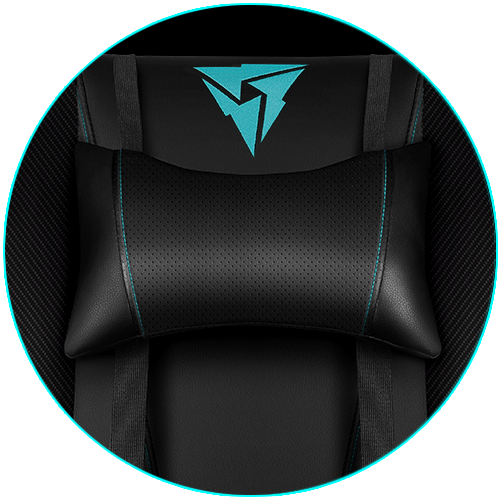 TX3 Colorlightning Module
A unique, eye-catching RGB lighting module is socketed on the back of the UC5 chair, which offers seven different colors: Red, Orange, Green, Blue, Cyan, Pink, and White.Furthermore, three lighting effects: Static, Static Color Loop, and Breathing Color Loop.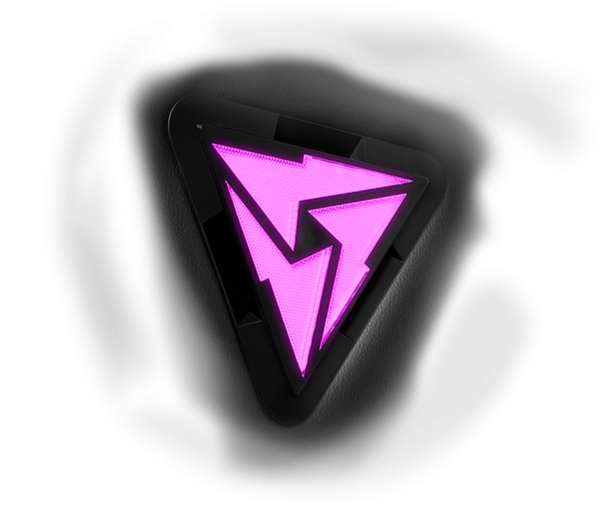 POWER IT
The ThunderX3 lighting module uses 4 AA batteries.(48 Hours of battery life)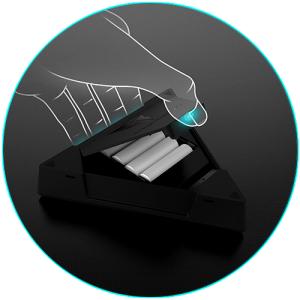 LIGHTS UP
Press and hold the center button to switch the module on or off, and cycle through the color lighting effect by clicking the button.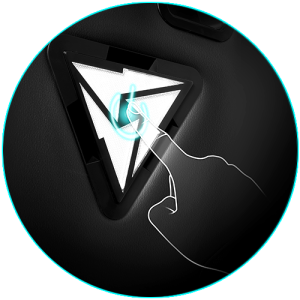 TAKE IT OFF
The magnetic base of the lighting module allows the user to remove the module from the chair and stick it onto any other magnetic surface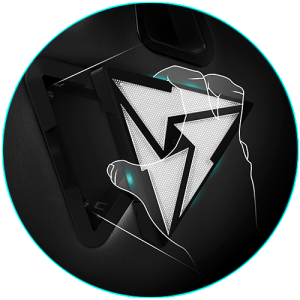 POWER NAP
A power nap will boost your memory, cognitive skills, creativity, and energy level. With the back rest adjustable up to 180°, you can lie straight down to power nap or just stare at the ceiling – whichever you prefer.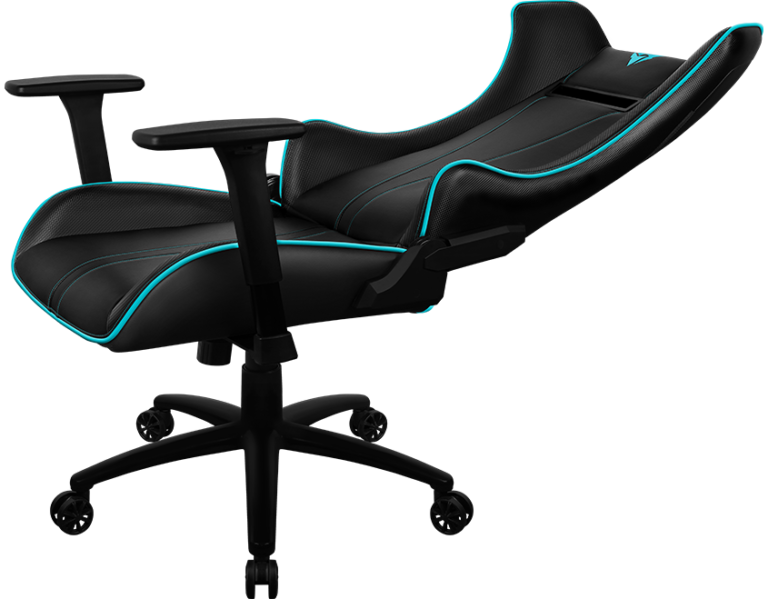 STRONG AND STURDY
Class-4 hydraulic lift supports up to 150kg.
GAS LIFT: CLASS 4
BEARING WEIGHT (kg/lbs): 150kg / 331lbs
CHARACTERISTICS: Durable and solid with high quality materials
DOWNSIDES: Guaranteed quality, leads to additional cost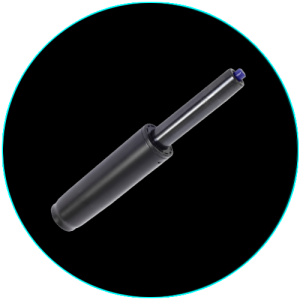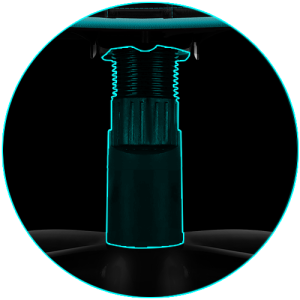 BIFMA is the trade association for business and institutional furniture manufacturers.
ADJUST FOR COMFORT
Adjust the seat height to your preferred seating position, lie back down to take a break or power nap while you plan your next move. Or just switch to the rocking mechanism while you rock back and forth in glee at the winning move you just executed.
RELAX
Rest your forearms on the 3D adjustable armrests, up/down, forward/backward, and pivot. Perfect for positioning your elbows just right during long hours of gameplay.
ROCK ON
Sit down. Lean back or put your feet up. Rockers not only reinvigorate us by promoting blood flow but also soothe us simply by rocking in a rhythmic movement.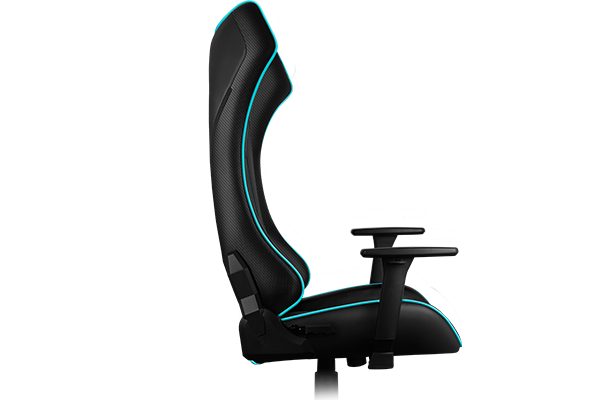 ADJUST SEAT HEIGHT
Pneumatic seat-height adjustment with a 360-degree swivel. Perfect for gamers between 160cm – 185cm tall.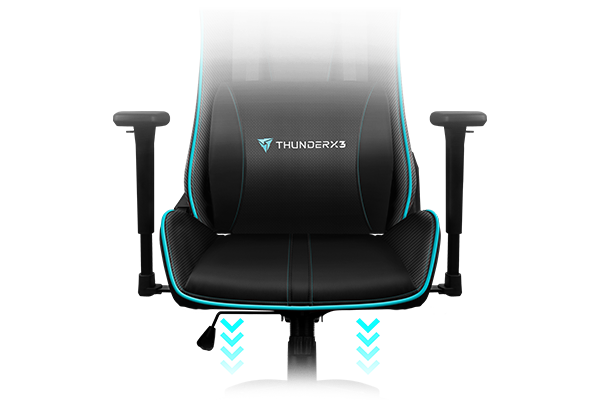 BUILT TO LAST
It is the combination of quality, solid materials and mechanisms that make ThunderX3 chairs the better choice.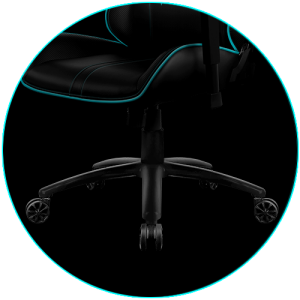 STURDY BASE
A uniquely designed strong sturdy nylon base ensures your chair remains stable and is built to last.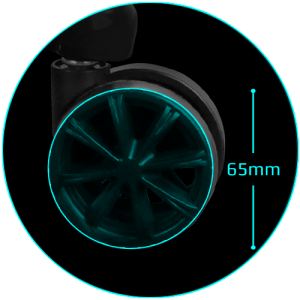 ROLL IT
Nylon wheels ensure a smoother movement.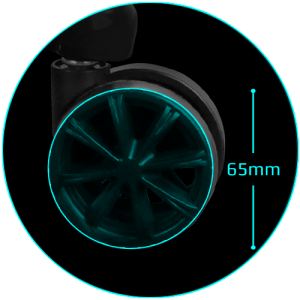 JUMP ON IT!
Tough metal frame ensures chair doesn't warp or break.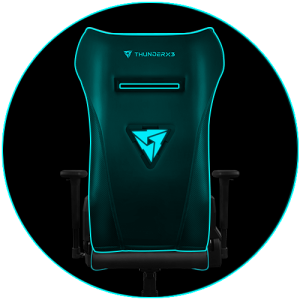 CARBON FIBER LOOK
Complementing the racing car seat design, the carbon fiber look at the back of the UC5 conveys a unique premium quality ensuring the chair looks great from all angles.