2TB WD Elements SE Portable Storage (Black)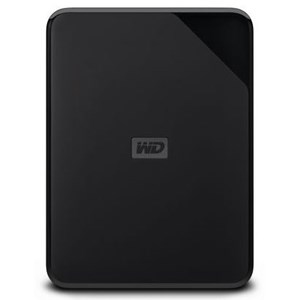 ---
---
2TB WD Elements SE Portable Storage (Black)
---
---
WD Elements SE portable storage with USB 3.0 offers reliable, high capacity to go, fast data transfer rates and universal USB connectivity. This portable hard drive comes equipped with WD Discovery software for drive management.
USB 3.0 and USB 2.0 compatibility
Get compatibility with USB 3.0 computers and backward compatibility with USB 2.0 computers in this single drive.
Improve PC performance
When your internal hard drive is almost full, your PC may slow down. Don't delete files. Instead, free up space on your internal hard drive by transferring files to the WD Elements SE portable storage to get your laptop moving again.
High capacity in a compact design
The small, lightweight design of WD Elements SE portable storage offers 2TB capacity, making it an ideal, on-the-go companion to take files with you.
WD quality inside and out
WD Elements SE portable storage with enclosure is built to meet WD's demanding requirements for durability, shock tolerance and long-term reliability to help protect the data that's important to you.
Formatted for Windows
Formatted NTFS and compatible with Windows 10, Windows 8.1, Windows 7, the WD Elements SE portable storage can be reformatted for other operating systems.