Boxed Intel Core i7-12700F Processor (25M Cache, up to 4.90 GHz) FC-LGA16A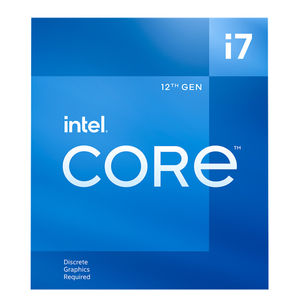 ---
---
Boxed Intel Core i7-12700F Processor (25M Cache, up to 4.90 GHz) FC-LGA16A
---
---
Intel Core i7-12700F Processor
Take on more, with more performance
Blazing-fast clock speeds and a revolutionary core architecture allow you to seamlessly chat, stream and record without sacrificing gameplay.
Divide and conquer
Intel's new performance hybrid architecture integrates two core families into a single CPU, keeping everything in your gaming universe running smoothly.
Intel Thread Director
Prioritizes and manages workloads, sending tasks to the best core for the job.
8 Performance-cores
P-cores are built for performance across single and lightly-threaded workloads, enhancing activities like gaming and productivity.
4 Efficient-cores
E-cores are optimized for multi-threaded performance, minimizing interruptions from secondary tasks.
Performance beyond the cores
The new processor architecture is also compatible with the latest platform innovations, giving you performance improvements throughout your PC.
Ready for what's next
Support for PCIe Gen 5 and DDR5 for high-performance components like memory and graphics.
Best-in-class connectivity
Thunderbolt™ 4 and Intel® Killer™ Wi-Fi 6/6E (Gig+) deliver fast transfer speeds and connections to peripherals.