Corsair Carbide Series 270R Mid-Tower ATX Case, Solid side panel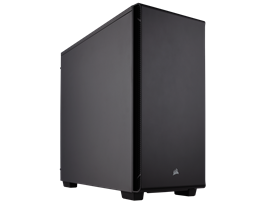 ---
---
Corsair Carbide Series 270R Mid-Tower ATX Case, Solid side panel
---
CAS270RSOLIDCOR 843591094214
---
Carbide Series 270R ATX Mid Tower Case
Rugged, Sleek and simple
Carbide Series 270R is compact and engineered for building high performance yet minimalist systems
Feature(s):
Builder-friendly internal layout
Versatile cooling options
Expansive storage space
Clean and minimalist exterior design
Built-in cable routing
Direct Airflow Path
Look hot, Run cold.
Take advantage of Direct Airflow Cooling as well as ample room for radiators in the front, top and rear. Keep your ri g runing cool and quiet with 270R's enormous cooling potential.
Keep it clean
Unobstructive exterior panels provide an understated look for an overall clean anad minimalist design. The subtle cable routing compartment makes it even easier to achieve an effortlessly clean build.
Specifications
Cooling
3x120mm(front)|2x120mm(top)|1x120mm(rear)
Dimensions
509 x 210 x 460 mm
Drive Bays
2 x 3.5" | 2 x 2.5"
Form Factor
Mid Tower ATX
Front Connectors
2x USB 3.0 | Head and microphone jack
Power Supply
Not included (ATX)
Redundant Power Capable
Warranty
2 Years
Weight