CORSAIR RMx Series RM750x 80 PLUS Gold Fully Modular ATX Power Supply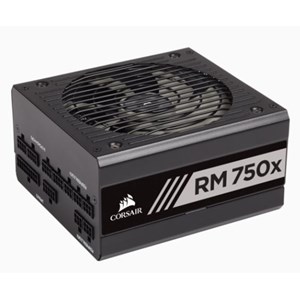 ---
---
CORSAIR RMx Series RM750x 80 PLUS Gold Fully Modular ATX Power Supply
---
---
ALL THE WATTS, NONE OF THE DECIBELS.
CORSAIR RMx series fully modular power supplies are built with the highest quality components to deliver 80 PLUS Gold efficient power to your PC, with virtually silent operation.
80 PLUS GOLD CERTIFIED
High efficiency operation for lower power consumption, less noise and cooler temperatures.
TUNED FOR LOW NOISE OPERATION
A specially set fan curve ensures that, even at full load, fan noise is kept to a minimum.
ZERO RPM FAN MODE
At low and medium loads the cooling fan switches off entirely for near-silent operation.
100% ALL JAPANESE 105°C CAPACITORS
Premium internal components ensure unwavering power delivery and long-term reliability.
FULLY MODULAR CABLES
Only connect the cables your system needs, making clean and tidy builds easier.
COMPACT SIZE
A 160mm-long casing ensures an easy fit in almost all modern enthusiast PC cases.
TEN-YEAR WARRANTY
Your guarantee of reliable operation that will last across several system builds.