Cougar Tri-directional RGB LED fan Vortex 120mm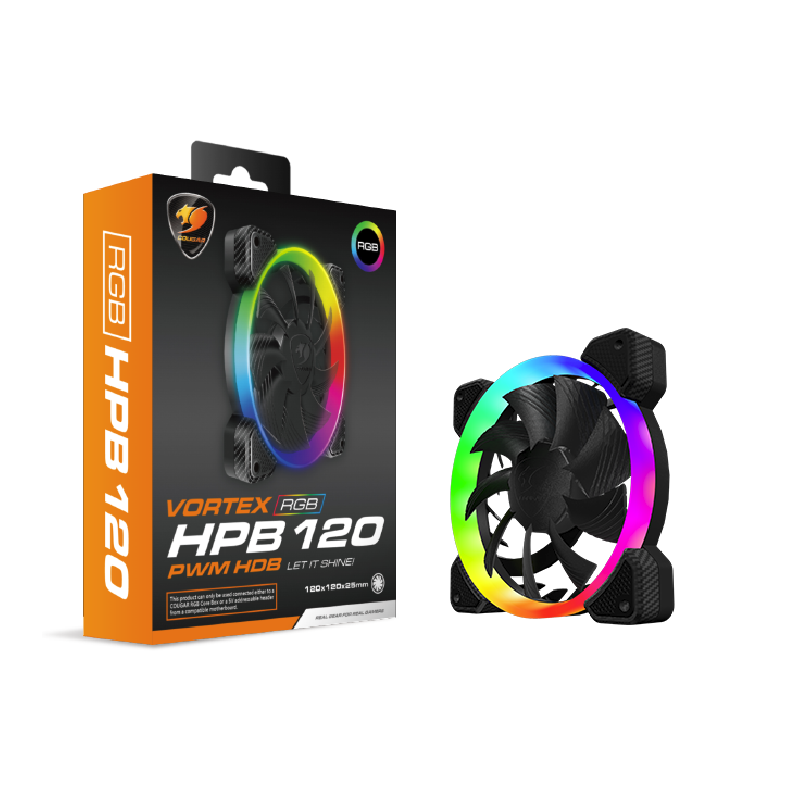 ---
---
Cougar Tri-directional RGB LED fan Vortex 120mm
---
CF-V12HB-RGB 4715302440480
---
VORTEX RGB HPB 120 PWM HDB
Add glorious lighting and improved cooling to your PC with this powerful RGB fan. Compatible with the COUGAR Core Box and with 5V RGB connection to compatible motherboards,VORTEX RGB HPB 120 is an ideal addition to those looking to improve their PC's looks.
TRI-DIRECTIONAL RGB CIRCLE OF LIGHT
More than a fan, VORTEX RGB HPB 120 is a work of art. Every single fan is equipped with 18 RGB LEDs that deliver a powerful and bright lighting experience to the front, inner and outer areas of the circle.
Our patented frame design shapes the airflow into a vortex that works wonders when it comes to keep your computer's key components cooled.
SUPPORT FOR COUGAR Core Box
Control your Vortex RGB to the COUGAR Core Box (sold separately) to enjoy 100 different lighting effects and adjust them wirelessly!
SUPPORT FOR 5V RGB CONNECTION
An included adapter allows you to connect the fans directly to the 5V RGB lighting connector of compatible ASUS, Asrock, Gigabyte or MSI motherboards.
(Please note: Only 5V RGB lighting connectors from compatible motherboards are supported; please do not connect the fan to a 12V connector)
Pulse-width Modulation is a technology that allows the mainboard, through the 4-pin connector, to adjust the fan speed in a range that goes from 600 to 1500 R.P.M., reaching the optimal balance between cooling and audible output while keeping a constant 12V operating voltage. The cooling you need without the noise you don't want!
Hydro-Dynamic Bearing (HDB)
The hydro-dynamic bearing technology brings a triple benefit: increases the fan's useful life, allows it to operate with less noise and minimizes heat generation.
Model
CF-V12HB-RGB
Marketing Name
VORTEX RGB HPB 120
PWM HDB
Dimensions
120 x 120 x 25mm
Bearing Type
Hydro-Dynamic Bearing
Speed
PWM 600-1500 R.P.M
Air Flow
43.54 CFM 73.94 m3/h
Air Pressure
1.17mm H2O
Fan Voltage
12 VDC
LED Voltage
5 VDC
Acoustical Noise
26 dBA
Cable Length
600mm
LED Lights
18
LED Power Consumption
1.8W
Package Content
VORTEX RGB HPB 120
4 Pin Fan to PSU Connector
5V Addressable Header Adapter
Fan Screws
User Manual