Creative Sound Blaster X G3 USB-C Portable DAC for PS4 / Switch & PC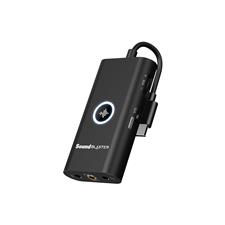 ---
---
Creative Sound Blaster X G3 USB-C Portable DAC for PS4 / Switch & PC
---
---
Creative Sound Blaster G3 USB-C DAC and AMP - Power: USB, USB-C - Connectivity: 1x 1/8" Headphone-Out Jack, 1x 1/8" mini TOSLINK Optical/Line-In Combo Jack, 1x 1/8" Ext. Mic-In Jack - Dynamic Range (DNR): 100db - Playback Resolution: PCM 16-bit, 48.0, 96.0 kHz, PCM 24-bit, 48.0, 96.0 kHz - Compatibility: Windows 8/10 (32/64-bit), MacOS (OS X 10.12 or higher), PS4 (Firmware Version 5.0 or later), Nintendo Switch (Switch OS 5.0 or later) - 70SB183000000 - 12 Months Limited Warranty
Manufacturer Warranty:

 12 Months Limited Warranty
· Powered by USB-C. Perfect for PS4, Nintendo Switch, PC, and Mac
· BETTER GAMEPLAY WITH GAMEVOICE MIX
· Built with form and functionality in mind, the G3 provides direct access to the independent mic and volume controls on each side of the device.
· FOOTSTEPS ENHANCER
· ON-THE-FLY MOBILE REMOTE
THIS IS IT. THE FIRST SOUND BLASTER MADE SPECIFICALLY FOR PLAYSTATION® 4 AND NINTENDO SWITCH™ USERS.

If you were a PC user, it would be easy getting a DAC, amp, or sound card to satisfy your audio needs. But why isn't it the same for console users? With 30 years of legacy and technical expertise in PC audio, we are venturing beyond the PC and into gaming consoles, and the Sound Blaster G3 is our answer. Designed to be a fuss-free, driverless audio upgrade for your gaming consoles, the G3 is meant to provide users with premium gaming features without having to break the bank.
Making our first foray into gaming audio on consoles, we debut our latest GameVoice Mix for game and voice chat balance capability, a customizable EQ preset with custom-tuned Footsteps Enhancer, and on-the-fly audio adjustments without having to exit your game's screen.
If all you have ever known is the default audio on your consoles, try the G3. We'll let its performance speak for itself.