D-Link DGS 1016A, 16 Port Gigabit Switch

---
---
D-Link DGS 1016A, 16 Port Gigabit Switch
---
---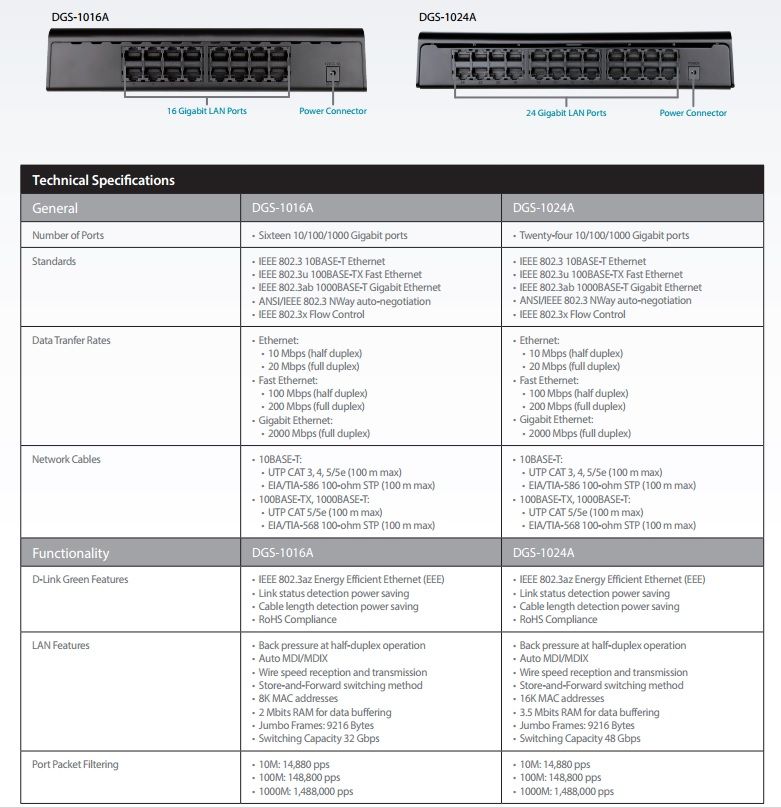 D-Link 16 Port Gigabit Switch (DGS-1016A)
SKU: DGS1016A
The D-Link DGS-1016A 16-Port Unmanaged Gigabit Switch offers an economical way for SOHO and small to medium businesses (SMB) to deploy an energy-efficient switch that features the increased bandwidth of Gigabit ports.
Gigabit on Every PortThe 16 Port Unmanaged Gigabit Switch brings the speed of Gigabit Ethernet to each and every port for a truly high-speed network. If your network has a mix of legacy and modern computing capabilities, each port allows for standard Ethernet, Fast Ethernet, or Gigabit Ethernet connections. You have the latest technology available to every computer and device connected to your network.
Innovative DesignThe sleek plastic case of the DGS-1016A is an industry first for a Gigabit SOHO/SMB switch. Using a compact desktop style helps generate heat dissipation levels that allow for a fanless design, making the switches silent, as well as economical. The 16 Unmanaged Gigabit Switch is small, lightweight, wall-mountable, and ideal for any business with big needs and a small budget.
Conserves EnergyThe 16 Port Unmanaged Gigabit Switch helps you conserve energy automatically through several methods. It automatically powers down ports that have no link, allowing the switch to save substantial amounts of power by cutting power usage for unused ports or any ports connected to computers that have been shut down. It can also detect connected cable lengths, and adjusts power usage accordingly, helping you save energy without affecting networking performance.
Think GreenThe DGS-1016A makes use of D-Link Green Ethernet technology, providing more energy savings and a longer product life, without sacrificing operational performance or functionality. These environmentally friendly switches are also RoHS compliant, use recyclable packaging, and minimize the use of harmful substances.