D-Link DHP-1321 Wireless Powerline AV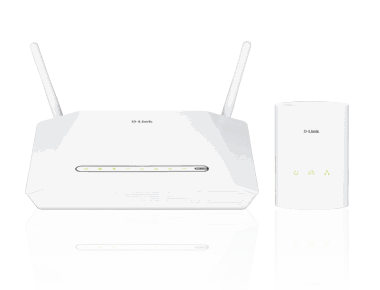 ---
---
D-Link DHP-1321 Wireless Powerline AV
---
---
 Instant Home Networking
The D-Link® PowerLine AV Network Starter Kit instantly transforms your home's existing electrical wiring into a high-speed network**. Simply connect the DHP-1320 Wireless N PowerLine Router to your Internet connection and then connect to your power outlet to turn every other power outlet in your home into a possible network connection. Then plug the DHP-306AV adapter into an outlet in a different room to get a network connection. The DHP-306AV and DHP-1320 feature a security push button that enables secure transmission between devices. 
The Convenience of Wi-Fi
The DHP-1320 is a Wireless N 300 router that provides a significantly faster and farther-reaching wireless signal than (outdated) Wireless G routers. D-Link's Intelligent Antenna Technology makes use of your home's environment by bouncing multiple wireless signals off of walls and ceilings to work around obstructions and help eliminate dead spots. 
Faster Speeds
With speeds up to 200Mbps**, the PowerLine devices enable streaming of high definition video, lag-free gaming and faster access to large files within your network. The DHP-306AV and DHP-1320 include an energy saving feature that disables the PowerLine connection when there is no network activity, helping you save money as well as the environment. 
Online Gaming
The PowerLine AV Network Starter Kit enables you to connect the DHP-306AV to gaming consoles like the Xbox 360®, Playstation® 3 or Nintendo Wii® to the Internet. The built-in Quality of Service (QoS) feature enables lag-free gaming. 
Audio/Video Streaming
Ideal when streaming and recording media, the DHP-306AV can connect Ethernet-enabled digital media devices such as Tivo® or Slingbox® to your network and the Internet. The built-in QoS feature enables smooth video streaming. 
Save Energy with D-Link Green
D-Link Green features for the DHP-1320 include Wi-Fi Scheduling, PLC power saving, and power saving by link status. Scheduled Wireless allows administrators to configure specific hours when the wireless network will be powered off to save energy and enhance security. PLC power saving shuts down the PowerLine function when no Ethernet activity or wireless connection is detected. Power saving by link status automatically detects the link status of wired devices and reduces the power usage of ports that are idle. A physical power button on the back of the router allows you to turn the device off without unplugging it 
Share Multifunction Printers and USB Storage
The SharePort™ Network USB Utility allows you to connect a multifunction printer to the USB port to share printing and scanning functions among family members. The USB SharePort also supports external hard drives and flash storage for sharing files across your home network. 
* Power outlets and electrical wiring must all be part of the same electrical system. Certain electrical conditions in your home, such as wiring condition and configuration, may affect the performance of this product. Connecting this product to a power strip with a surge protector may adversely affect the performance of this product. For best results, plug them directly into a wall outlet. ** Maximum throughput based on theoretical transmission PHY rate. Actual data throughput will vary. Network conditions and environmental factors, including volume of traffic and network overhead, may lower actual data throughput rate. Interference from devices that emit electrical noise, such as vacuum cleaners and hair dryers, may adversely affect the performance of this product. This product may interfere with devices such as lighting systems that have a dimmer switch or a touch-sensitive on/off feature, short wave radios, or other Powerline devices that do not follow the HomePlug AV standard.