Deepcool Gammaxx L240 RGB LED Liquid Cooler, PWM Control, Super Silent(LS)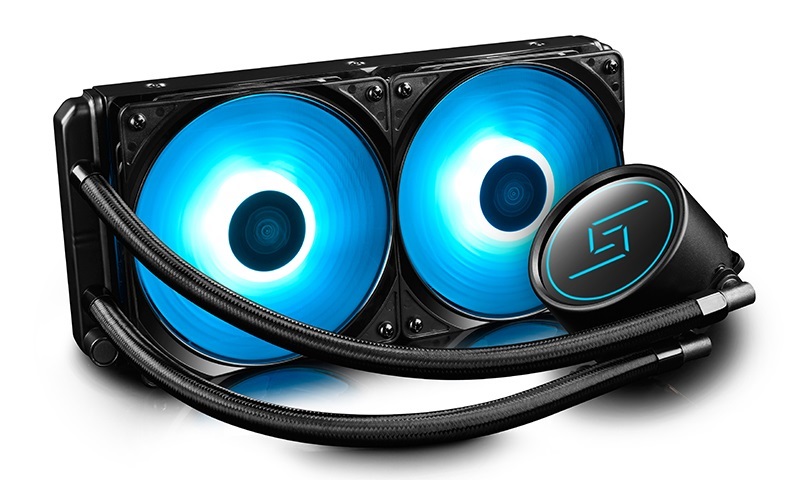 ---
---
Deepcool Gammaxx L240 RGB LED Liquid Cooler, PWM Control, Super Silent(LS)
---
CFD-GAMMAXXL240 6933412726531
---
DESCRIPTION
Deepcool Gammaxx L240 RGB LED Liquid Cooler, PWM Control, Super Silent

Description
House Gammaxx is a great clan of Deepcool, ruling a vast territory of CPU coolers. From this noble family, many have earned their fame through battles of performances and prices, such as Gammaxx 400 and Gammaxx GT. In the past few years, more and more liquid coolers have been taking the stage, yet not so many enthusiasts are lucky enough to own one. To allow everyone to enjoy liquid cooling, the first liquid cooler of the House, Gammaxx L240 is finally ready to serve the world, after years of cultivation

Brand new water-block and fans with built-in 12V RGB lighting system supports mainstream motherboards with synchronized lighting control.
The E-shaped micro water-channel design can effectively enhance the heat circulation efficiency and enlarge the thermal contact area.
With 6 ultra-bright RGB LED lights, three built-in RGB effects (breathing, static, and multi-color cycling) and PWM control with super silent performance.
The ultra-large, pure copper CPU block provides effective coverage and heat dissipation for CPUs of any size.
The ceramic axle bearings and axle cores guarantee an ultra-long service life.
Supports Mainstream Intel & AMD Sockets.