DIR-X3260 [DLINK / NETWORKING DEVICE - COMMERCIAL WIFI/ACCESS POINT/MODEM]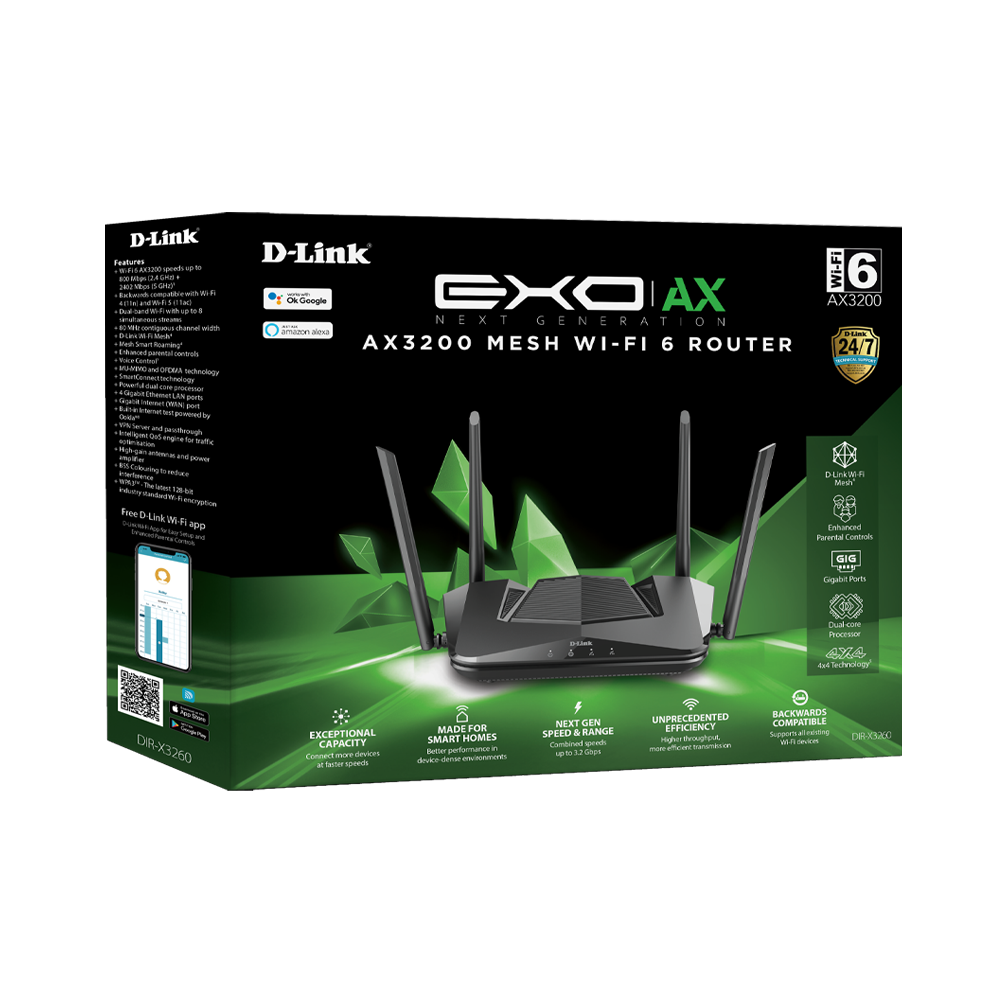 ---
---
DIR-X3260 [DLINK / NETWORKING DEVICE - COMMERCIAL WIFI/ACCESS POINT/MODEM]
---
---
EXO AX AX3200 Mesh Wi-Fi 6 Router
DIR-X3260
Wi-Fi 6 technology provides faster speeds, greater capacity and less network congestion
Next-gen speeds up to AX3200 (2400Mbps on the 5GHz and 800Mbps on the 2.4GHz)
Dual-band Wi-Fi with up to 6 simultaneous streams makes 4K streaming a breeze
Create a seamless D-Link Wi-Fi Mesh network by adding DAP-X1860 Wi-Fi extenders
4 Gigabit Ethernet LAN ports and 1 Gigabit Ethernet WAN port provide optional wired connectivity
Intelligent Quality of Service prioritises network traffic to minimise the impact of busy bandwidth
Backwards compatibility ensures support for previous Wi-Fi standards and all Wi-Fi devices
Supports WPA3™ — the latest WiFi security for more protection
Voice Control for an even easier home Wi-Fi networking experience
Works with the D-Link Wi-Fi App for easy setup and enhanced parental controls
Next-Generation Speeds
The latest Wi-Fi 6 technology for blazing-fast Wi-Fi
OFDMA
Increased efficiency and lower latency for small data packets
MU-MIMO
Data to and from more devices at once
Extended Coverage
Signals reach further throughout your home
Supports WPA3™ Encryption
The latest Wi-Fi security for more protection
BSS Coloring
Color codes your data to minimize signal interference from your neighbors' Wi-Fi
Test Internet Speed
Built-in internet test powered by Ookla® to check your connection uplink and downlink speeds
Voice Control
Works with the Google Assistant and Alexa
Next-Generation Speeds
Experience up to AX3200 speeds while 1024-QAM boosts throughput to devices by up to 25% and 160 MHz contiguous channel width gives even more bandwidth. Up to 6 simultaneous streams let you enjoy faster, more enjoyable 4K streaming, online gaming and more, and should you require them — 4 Gigabit LAN ports and 1 Gigabit WAN port give you faster wired connectivity whenever you wish.
Connect More, Congest Less with OFDMA
The DIR-X3260 uses Wi-Fi 6's cutting-edge Orthogonal Frequency Division Multiple Access (OFDMA) technology. Small data packets destined for multiple devices are transmitted together and never have to queue up again. Perfect for Smart Homes filled with bandwidth-hungry IoT devices battling for bandwidth.
MU-MIMO
MU-MIMO technology helps distribute the flow of data to multiple devices simultaneously. With Wi-Fi 6 technology the DIR-X3260 leverages OFDMA and MU-MIMO for better efficiency of upstream AND downstream transmissions, unlike previous Wi-Fi 5 technology where MU-MIMO could only operate in downstream transmissions. This combination greatly increases capacity, coverage and performance especially in ultra-high-density environments.
Extended Coverage, Reduced Interference
High-gain antennas, built-in power amplifiers and beamforming technology allow the DIR-X3260 to extend the reach of your Wi-Fi and focus a stronger signal in the direction of your devices to ensure a stronger, faster and more reliable Wi-Fi experience. Meanwhile a long OFDM symbol ensures even greater Wi-Fi range, especially outside the home.
The Future of Wireless Encryption
One of the biggest concerns with Wi-Fi networks and connected devices is privacy. The latest WPA3 encryption is the most advanced standard available and begins a new era of wireless encryption, ensuring greater privacy throughout users' networks and devices.
The Future of Wireless Encryption
The latest WPA3 encryption will replace previous industry-standard encryptions on Wi-Fi devices
Stronger Encryption Algorithm
Creates stronger and more unique encryption keys for each device
Enhanced Protection from Brute Force Attacks
Stronger protection for users against password guessing attempts
Individualized Data Encryption
Creates stronger and more unique encryption keys for each device
Forward Secrecy
Cannot use a cracked password to decrypt previously-intercepted traffic
Futureproof and Compatible
D-Link routers will not be the ones holding your network back with previous encryption protocols
Always Up-to-Date
Firmware upgrades can be a pain, but with the DIR-X3260, they are completely automated. Upgrades are so smooth, you won't even notice them. On top of that, the DIR-X3260's Dual Image functionality saves a recovery image as a backup before an upgrade. So, in the unlikely event an upgrade fails, the system has your pre-existing configuration to fall back on.
BSS Coloring
Your neighbors' Wi-Fi could be interfering with your wireless signals and slowing things down. Wi-Fi 6 puts an end to the Wi-Fi strife with BSS Coloring technology. It makes transmissions more unique by 'coloring' them with their own unique code. 
The result? Devices can decide whether to transmit signals or ignore them, based on their "color". Get less interference, less Wi-Fi slowdowns and more range.