Edifier B8 CineSound Soundbar Speaker System with Wireless Subwoofer Bluetooth, Optical, Coaxial, RCA - Ideal for HomeTheatre Large Format TV Silver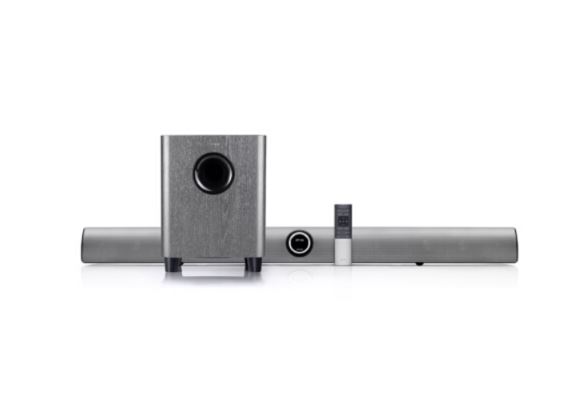 ---
---
Edifier B8 CineSound Soundbar Speaker System with Wireless Subwoofer Bluetooth, Optical, Coaxial, RCA - Ideal for HomeTheatre Large Format TV Silver
---
---
DESCRIPTION
Edifier B8 CineSound Soundbar Speaker System with Wireless Subwoofer Bluetooth, Optical, Coaxial, RCA - Ideal for HomeTheatre Large Format TV Silver

CineSound B8 Edifier brings the world of cinema to you in a dynamic 1m-long stylish speaker with subwoofer for optimum sound performance. Introducing the Edifier CineSound 87 for home entertainment and personal enjoyment.
Designed with high strength composite materials that minimizes acoustic resonance, CineSound B8 is the best soundbar system available today. Tri-amplifying system with DSP, DRC audio processors 8 inch subwoofer, 2 3/4 inch aluminum diaphragm mid-range and 3/4 inch silk dome tweeter Total 145 W RMS.
Key Features
Bluetooth Connectivity
B8 Soundbar is enabled with Bluetooth 4.0. he speaker can be paired with any Bluetooth enabled devices to satisfy a variety of audio applications without the constraint of wires and cables.
Preset audio modes
CineSound B8 Soundbar comes with preset audio modes separately for music, movie, and news so that you can enjoy each one of them with a proper audio output.
Wireless Subwoofer
B8 Soundbar comes with a wireless sub-woofer of 5.8GHz along with it. The sub-woofer is 8 inches with 2 3/4 inch aluminum diaphragm mid-range and 3/4 inch silk dome tweeter. With help of this sub-woofer, the audio output is enhanced to give you a crystal clear sound.
Tri-ampifying system
CineSound B8 Soundbar from Edifier has a tri-amplifying system with Digital Signal Processing (DSP) and Dynamic Range Control (DRC) audio processors. This feature helps to prevent distortion levels even at the highest volumes, producing crisp, clean audio.
Thin and Sleek
Smooth and slim, the B8 Bluetooth soundbar is designed for elegance and entertainment.
Regulate Every Sound
Multiple Connection Options
Easily connect any device with the versatile options the B8 provides. Its Bluetooth 4.0 capability allows you to connect any device to your speaker.