Epson Perfection V850 Pro Scanner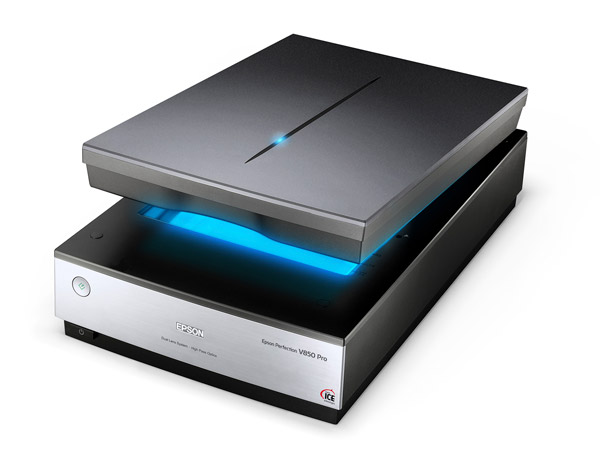 ---
---
Epson Perfection V850 Pro Scanner
---
---
KEY FEATURES & BENEFITS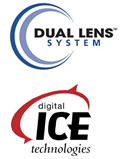 Precise Colour and Detail

 – get extraordinary scans with state-of-the-art 6400 dpi optical resolution

Remarkable tonal range and shadow detail

 – 4.0 Dmax for smooth graduations and fine shadow detail

Epson's exclusive Dual Lens System

 – automatically selects from two lenses for optimum results based on the media being scanned

Automatically remove dust and scratches

 – Digital ICE® Technologies remove many surface defects from film and prints to minimise costly retouching
ReadyScan® LED light source – for fast scans with no warmup time required

Batch scanning

 – digitise multiple slides, negatives, medium-and large format film with 2 sets of included film holders

Do more with your film and photos

 – SilverFast® SE software included for added versatility and control

Precision film scanning

 – includes 2 sets of anti-Newton ring film holders
Exceptional quality for the professional and enthusiast
Epson are delighted to announce the Perfection V850 Photo which provides professional quality results from virtually any photographic original.
Providing up to 6,400 dpi resolution, this powerful scanner consistently delivers precision colour and detail, whether scanning slides, negatives or medium–format film. Including 4.0 Dmax optical resolution, it offers exceptional image quality, excellent detail in shadow areas and remarkable tonal range. 48–bit colour and 16–bit grayscale provide subtle shades and accurate colour reproduction for everything from professional slides to simple business documents.
The Flagship Scanner
The Epson Perfection V850 Pro includes the following:
   1. Anti-reflection optical coatings on the CCD cover glass for cleaner output with reduced distortion and ghosting
   2. High reflection Mirror to ensure improvements in scanning speed
   3. Advanced Silverfast® SE Plus 8 software for versatility and control
   4. X-Rite i1 software for colour profiling and consistency
   5. 2 x sets of film holders which will allow preparation while simultaneously scanning
One–stop photo restoration solution
The V850 Pro also offers a host of powerful tools for photo restoration. Digital ICE™ technologies is a unique combination of hardware and software for correcting image defects. Digital ICE for Film uses an infrared sensor to detect dust and scratches on the surface of the film. In a multi–pass process, the dust/scratch is mapped out and carefully removed from the scanned image, leaving the composition and quality intact. Digital ICE for Prints removes the appearance of many types of surface defects from prints, minimizing costly retouching.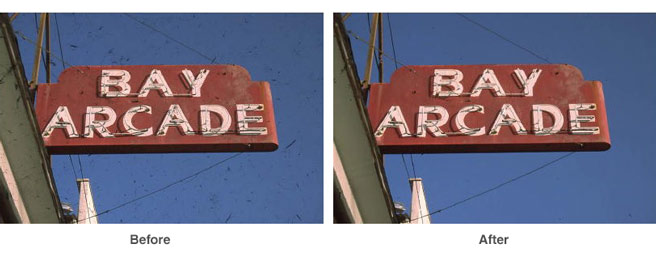 Epson Easy Photo Fix
Restore faded colour photos, slides and negatives, back to their original brilliance with Easy Photo Fix scanning technology, exclusively from Epson. Take those old family photos out of that shoebox in the closet and share precious moments once again. Just scan your photos renew the colour with one click. It's just that easy. In seconds, you're ready to print and display those memories for all to enjoy. Along with colour restoration, Easy Photo Fix also includes Grain Reduction and Backlight Correction.
New & Improved Film holders
The Epson Perfection V850 Pro includes 2 sets of redesigned plastic holders for all sizes of film, and all holders now include an anti-Newton ring plate to help prevent film sagging in the mount. This should help users achieve sharper images as the film will be held flat.
ReadyScan LED
For high productivity, these new scanners use Epson's ReadyScan LED technology, which provides an almost instant warm-up time of less than one second, meaning users can start scanning almost instantly. The Epson Perfection Photo uses low power consumption ReadyScan LED technology, and the extremely low scanning temperature generated by the LED light source makes it safe to scan even the most delicate of originals.
Dual Lens System
Among the many features that set the Perfection V850 Pro in a class of its own is an advanced Dual Lens System incorporating two separate lenses, each designed to optimise the scanning results in specific modes. Based on the scan mode selection, the Perfection V850 Pro will automatically adjust the lens being used. When using the Film (with Film Holder) mode, the scanner will utilise its powerful 6400dpi Super Resolution Lens, which delivers film scan results of incredibly high quality. In Reflective or Film (with Film Area Guide) modes, the Perfection V850 Pro switches over to its 4800dpi High Resolution Lens.
Crisp Definition
Rivalling the quality of many drum scanners, the Perfection V850 Pro - with its 4.0 Dmax optical density - provides users with the ability to create high quality print-ready negative and transparency scans. With such a high optical density, the scanner ensures scanned images exhibit an almost perfect colour tone reproduction of the original negative or transparency.
The Perfection V850 Pro's optical density is a significant advancement over earlier models and enhances the scanner's ability to capture full details in both highlight and shadow, delivering exceptionally clear and highly detailed scans. This means that when you scan in your negatives for photograph printing, you will be able to capture the same amount of detail, if not more, than if you had them printed at the photo lab.
PRODUCT NAME
Perfection V850 Pro
PRODUCT CODE
B11B224502
TECHNOLOGY
 
Scanner type
Flatbed Scanner
Optical Density
4.0Dmax
Colour Depth Input
48Bits Colour, Output: 48Bits Colour
Dual Lens System
scanning resolutions Super Resolution Lens 6,400x9,600 dpi, High Resolution Lens 4,800x9,600 dpi
Scanning Range
(maximum) 216mm x 297mm (Horizontal x Vertical)
Paper Formats
A4
SCANNER
 
Optical Sensor
Matrix CCD with Micro Lens
Anti-reflection optical coatings on the CCD cover glass
Light Source
White LED, IR LED with ReadyScan LED Technology
Scanning Method
Fixed documents and moving carriage
Output Resolution
25~12,800 (1 dpi step)dpi
SCANNING FEATURES
 
Image Improvement
Grain reduction, Dust removal, Print Image Matching II, Color palette tool for Easy Color Fix, Backlight Correction, Colour Restoration, Unsharp Mask with Noise Reduction, De-Screening with Document Type Optimizer, Digital ICE Technologies (for film and photo), Tone Curve Adjustment with Histogram
CONNECTIVITY
 
Interfaces
Hi-Speed USB - compatible with USB 2.0 specification
GENERAL
 
Supply Voltage
AC220V - 240V, 50Hz - 60Hz
Product dimensions
503 x 308 x 152mm (W x D x H)
Product weight
6.6kg
Included Software
Epson Copy Utility, Epson Event Manager, Epson Scan, LaserSoft Imaging™ SilverFast® SE 8 Plus, X-Rite i1 software
Compatible Operating Systems
Mac OS X 10.6.8 or later, Windows 7, Windows 8, Windows 8.1, Windows Vista, Windows XP, SP2 or higher
Humidity Operation
10% - 80%, Storage 10% - 85%
Temperature Operation
5° C - 35° C, Storage-25° C - 60° C
 
 
SCAN SPEED
 
Reflective scanning Colour
(speed/best):12/15s/page , A4 Preview: 6s/page
OTHER
 
Warranty
12 months Return to base
Epson Warranty
  
Optional warranty extension available
Usage Conditions
Epson products are designed and made to give highly reliable use and long life when used according to its specifications. With any system, product or device used in situations where human life may be involved or at risk, Epson advises that you should take all necessary steps to ensure the suitability of your Epson product for inclusion in your system, and recommends that you include fail-safe procedures and redundancy support or backup equipment in your system, to maintain the maximum safety margin and optimum system reliability. Examples include but are not limited to – do not interfere with any electrical components within the device, do not use items supplied with the product for purposes other than as intended by Epson (ie mains cords, inks, CDs, plastic wrapping) and do not make modifications to the product.
This printer is designed to function only with genuine Epson ink cartridges and not with third party ink cartridges. The printer may not function properly or at all if you use third party ink cartridges.