Epson SureColor T3460 - 24"

---
---
Epson SureColor T3460 - 24"
---
---
The Epson SureColor Technical series is a versatile and compact range of printers. They are designed for users who need to produce large-format colour and black-and-white images, economically and at high speed. They are compatible with a wide range of media from basic bond paper, to photographic media. They support high resolution print with dense and consistent colour. They are ideal for maps, plans, drawings, schematics, geological survey diagrams, sales presentations, POS, posters and displays.
The SC-T3460 features Epson's latest PrecisionCore™ print head and aqueous UltraChrome® XD2 pigment ink. It will print an A1 image in as little as 25s with output that dries almost instantly to be water and rub resistant. Ink ships in a range of cartridge sizes to suit different production and cost-per-print requirements. Designed for businesses that want to produce wide format prints, the printer can be purchased in either a desktop or floor-standing configuration and can be installed against a wall or in a corner. It also ships with software that enables easy printing from office and CAD/GIS applications.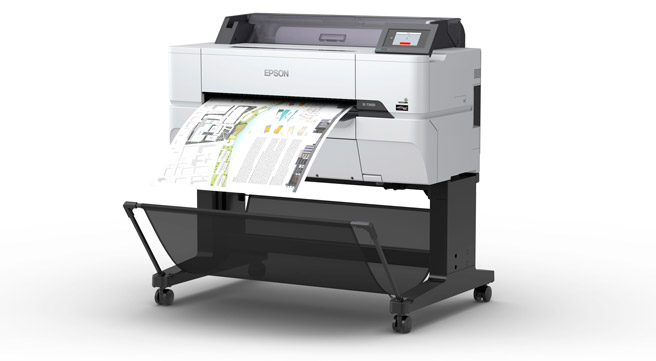 High Productivity

 – prints an A1 image in as little as 25s and includes an integrated auto-cutter

High Precision

 – 2400x1200dpi resolution Epson PrecisionCore™ print head with Variable Sized Dot Technology (VSDT) for super fine lines, superior half tones, solid and consistent colour

High Durability

 – all-pigment Epson UltraChrome™ XD2 ink dries almost instantly to be moisture & scratch resistant

High Reliability

 – solid construction backed with a comprehensive 'heads-n-all' warranty with service cover extendable up to 5 years1

High Flexibility

 – supports roll paper up to 24" (610mm) wide, sheet paper up to A1 and has integrated scanner support for optional MFP functionality3

High Convenience

 – large 4.3" touchscreen panel with easy to use interface, top loaded ink and media, Barcode Roll Media Management system, single page prints are held by the printer for easy removal while the floor standing model ships with a basket

Low Running Cost

 – ultra-low power consumption, uses individual colour cartridges in a choice of sizes up to 350ml and you can track how much your prints are costing with the LFP Accounting tool

Easy Integration

 – compact design, high speed Gigabit Ethernet, convenient WiFi/ WiFi Direct & AirPrint support, HP-GL/2 & RTL emulation2

Greater Connectivity

 – Connect a USB thumb drive to the printer and print JPEG or TIFF images directly from the USB
---
1 When printers are installed, maintained and operated appropriately using correct and genuine Epson UltraChrome XD ink they are covered by a comprehensive on-site warranty subject to conditions outlined in the Epson Australia Warranty Statement. Service Cover can be extended through the purchase of optional CoverPlus up to a maximum total of 5 years subject to conditions documented in the relevant service pack.
2 The HP-GL/2 & HP RTL implementation employed by different applications can vary. If this facility is important please contact Epson or one of our dealer partners to confirm compatibility and operational functionality prior to purchase.
3 Please refer to specifications page for compatible scanner models.
SIZE
 
Max Print Width
24 inch wide (610mm)
PRINT TECHNOLOGY
Print Head
PrecisionCore TFP with VSDT and Auto Head Alignment
Print Modes
Uni & Bi-directional
Nozzle Configuration
800 per colour
Maximum Resolution
2400dpi x 1200dpi
Minimum Ink Droplet Size
4.0pl
INK SYSTEM
 
Family
Epson Ultrachrome® XD2
Type
All-Pigment Aqueous
Colours
C+M+Y+K
Cartridges
CMYK 110ml
CMYK 350ml
PERFORMANCE (per Sheet)
CAD A1
25sec
Figures represent print times only for Epson test sample images as shown produced on plain paper in speed mode. Additional processing time may be required with individual results likely to vary depending on print mode, software, operating environment, media, data file size/type.
MEDIA SUPPORT
Add
Roll Format
Single roll top loaded spindle, 2" core, 3" core for plain paper, 0.08 to 0.3mm thick, 254-610mm wide, 170mm max diameter, max weight 12kg
Sheet Format
Top loaded A4-A1 single sheets, 279.4 to 1,580 mm length, 0.08-0.3mm thick
Borderless Printing
Supported Media Types: A1 (594mm) and A1+ (610mm)
Cut Sheet only borderless to the left and right of the sheet
Auto Cutter
Inbuilt rotary type
Manual Double Sided Printing
Please refer to user guide, and contact Epson or your authorised dealer before selecting any media for this purpose in order to check suitability.
Output
Single sheet hold feature
Printer Stand incorporates a media basket
OPERATION
 
Control Panel
4.3" Colour LCD touch screen
Control Code
ESC/P2, ESC/P Raster, HP/GL/2 & HP RTL* 1
Connectivity
USB 3.0 & Ethernet 10Base-T/100Base-TX/1000Base-T, WiFi, WiFi Direct, Air Print
Included Software
Mac/Windows Printer Driver, MS Office Plug-In, EpsonNet Config, EpsonNet Print (Win only)
Software via web download
HDI driver, CopyFactory, EpsonNet SetupManager, Epson Device Admin, Epson Edge Dashboard, LFP Accounting tool
Roll Management System (Roll Format)
Barcode Roll Media Management system helps keep track of the type of media and how many metres is left on the roll
USB Input
Front panel USB slot enables JPEG and TIFF files to be printed direct from a thumb drive
Compatibility
Windows 10/8.1/8/7/Vista/XP, Mac OSx10.6.8 or later
Memory
1GB RAM
Scanner Support
USB interface with integrated control & auto enlargement
Supports 5x7", Letter, A5, B5, A4, B4, A3 & custom (89-297mm wide) input page sizes
Supports A2, US-C (17x22"), B2, US-D (22x34"), A1 & custom (89-610mm wide) output page sizes
Supports Epson DS-530, DS-6500 & DS6000 scanner models
Physical (WxHxD)
Floor Standing: 1080 × 966 × 1060 mm, 64kg (open basket, no consumables, media or options)
ENVIRONMENT
 
Operational Temp
10° to 35° C
Operational Humidity
20 to 80% (40 to 60% is recommended for no condensation)
Power Supply
100 - 240 V AC, 50/60 Hz
Power Consumption
34W Operating, 13W Standby, 1.3W Sleep
Operating Noise
50dB
Recommended Install Space (WxHxD)
Floor-standing: 1080 × 750 × 1060 mm
SHIPPING INFO
 
Packaging (WxDxH)
Floor standing: 1248 x 850 x 1100mm, 96Kg
What's in the Box
Printer, Power Cord, set of 110ml ink cartridges, 1 x Maintenance Tank, Setup Guide & Warranty Info. Mac/Windows Printer Driver, MS Office Plug-In, EpsonNet Config, EpsonNet Print (Win only), user & Network manuals on CD.
Delivery & Install
Some assembly and configuration may be required. A significant proportion of the included ink will be required to 'prime' the printer and it is recommended that an additional set be purchased for production work. Delivery, de-boxing and package removal is not typically included but can be provided at an additional charge for most locations.
Service & Support
Support and Service is provided via authorised Epson authorised Large Format Technical Dealers. If you have a problem with a SureColor Technical printer, a related option or consumable please contact your dealer for initial problem evaluation. Should a printer require service this will be provided by on-site free of charge within the period covered by your Warranty and any optional Service Pack. Note: Provision of service and support is subject to Large Format Printer Warranty terms and travelling charges may apply for equipment located outside major metro areas.
CONFIGURATION OPTIONS
C11CF85401
Floor Standing with 1Yr On-Site Warranty
SCT34603YR
Floor Standing with 2Yr CoverPlus On-Site Service Pack (total 3 yrs cover)**
SCT34605YR
Floor Standing with 2 x 2Yr CoverPlus On-Site Service Pack (total 5 yrs cover)**
SCT3460S1YR
Floor Standing with DS-530 scanner & 1Yr On-Site Warranty
SCT3460S3YR
Floor Standing with DS-530 scanner & 2Yr CoverPlus On-Site Service Pack (total 3 yrs cover)**
SCT3460S5YR
Floor Standing with DS-530 scanner & 2 x 2Yr CoverPlus On-Site Service Pack (total 5 yrs cover)**
OPTIONAL ACCESSORIES
C12C933281
Additional Roll Feed Spindle for T3460 (24")
1YWTSCT3460
1 Yrs Epson CoverPlus On-Site Printer Service Pack**
2YWTSCT3460
2 Yrs Epson CoverPlus On-Site Printer Service Pack**

** Epson CoverPlus Service Packs enable cover to be extended. One or more Service Packs can be ordered in conjunction with the various printer configurations &/or options to enable cover for 1, 2, 3, 4 and 5 year periods (total cover cannot exceed 5 years). Service and support is only provided for product supplied through Epson Australia or Epson New Zealand. This facility is provided in conjunction with the Authorised Large Format Reseller through which the product is ordered. Limitations apply to the provision of Warranty and CoverPlus. Regional locations and certain installation situations may attract additional charges. Service may be restricted or limited when equipment is used outside of specification, with non-genuine Epson consumables, and consumables not designed for use with the particular printer model. For full details on coverage, terms and limitations please review the warranty terms listed on this web-site and contact Epson or one of our Authorised Large Format Resellers if you have questions or concerns.

 

RELATED PRODUCTS
 
SC-T3200
24" SureColor Technical Printer
SC-T5160
36" SureColor Technical Printer
SC-T5200
36" SureColor Technical Printer
SC-T5200D
36" Dual Roll SureColor Technical Printer
SC-T7200
44" SureColor Technical Printer
SC-T7200D
44" Dual Roll SureColor Technical Printer
 
 
Usage Conditions
Epson products are designed to give highly reliable use and long life when used according to specifications. With any product or device used in situations where human life may be involved or at risk, Epson advises that you should take all necessary steps to ensure the suitability of your Epson product for inclusion in your system, and recommends that you include fail-safe procedures and redundancy support or backup equipment in your system, to maintain the maximum safety margin and optimum system reliability. Examples include but are not limited to – do not interfere with any electrical components within the device,do not use items supplied with the product for purposes other than as intended by Epson (ie mains cords, inks, CDs, plastic wrapping), do not make modifications to the product, take care with the use of 3rd party consumables, consult Epson if you have any questions or concerns.