EPSON TM-T88VII -612 DESKTOP DIRECT THERMAL PRINTER - MONOCHROME - RECEIPT PRINT - ETHERNET - USB - USB HOST - SERIAL - WITH CUTTER - BLACK - 500 MM/S MONO - 180 DPI - 80 MM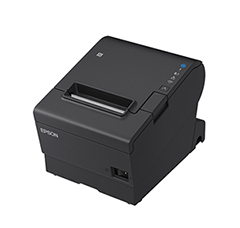 ---
---
EPSON TM-T88VII -612 DESKTOP DIRECT THERMAL PRINTER - MONOCHROME - RECEIPT PRINT - ETHERNET - USB - USB HOST - SERIAL - WITH CUTTER - BLACK - 500 MM/S MONO - 180 DPI - 80 MM
---
---
Description:


The fastest POS receipt printer1 with advanced connectivity and online ordering capability
The TM-T88VII is our new high-performance receipt printer range. It features a range of design, connectivity and usability improvements and enhancements to improve the user experience.

These Epson point of sale printers can connect to multiple devices simultaneously. Using multiple interfaces, the printer can be dynamically shared by PC-POS terminals, tablets and mobile devices as well as cloud servers.

The TM-T88VII is fully compatible with the existing T88V and T88VI software so there are no expensive costs associated with changing business infrastructure. The printer also has same footprint as previous models, meaning no additional costs of having to change the counters or tills.

Ideal for retailers and hospitality businesses looking to tap into the benefits of web and tablet POS services while maintaining compatibility with existing applications, the TM-T88VII series offers an ideal solution for customer-facing businesses of all sizes, and some of the most advanced features on the market.
KEY FEATURES & BENEFITS
Ultra-fast transaction times

 –industry-leading print speeds up to 500 mm/sec1 and high-speed auto cutter

Reliability you can count on

 – 4-year warranty; easy-to-clean, water-resistant enclosure; long printhead and auto cutter life2

Connect to multiple devices simultaneously

 – using multiple interfaces, printer can be dynamically shared by PC-POS terminals, tablets and mobile devices as well as cloud servers

Multi-interface support

 – built-in USB and Ethernet, optional serial, powered USB, parallel and wireless connectivity ensure maximum flexibility and futureproofing

Secure wireless connection

 – supports the latest Wi-Fi® security standard (WPA3)

Online ordering ready

 – Server Direct Print technology allows the printer to retrieve orders from a web server and print a receipt without requiring POS software integration

POS peripheral support

 – supports POS peripherals including barcode scanners, customer displays, and more

Easy setup and configuration

 – streamline the setup and replacement processes using Epson TM Utility; vertical mounting kit provides flexible configuration options

Easy to understand

 – status LEDs and network diagnostic sheet improve on-site network troubleshooting

Backwards compatible 

– fully compatible with the existing T88V and T88VI software and same footprint

Advanced paper-saving functions 

– top-margin and character-height reduction features help reduce paper usage by up to 49 percent3
For more information go to http://www.epson.com.au