mbeat 7-Port USB 3.0 & USB 2.0 Hub with 2.1A Smart Charging

---
---
mbeat 7-Port USB 3.0 & USB 2.0 Hub with 2.1A Smart Charging
---
---
 In addition to providing 7 USB ports for expanding your PC's connectivity, this device also offers a dedicated 2.1Amp smart charging port to fast charge your smartphone or tablet.
The versatile design supports USB 3.0 and USB 2.0 devices and eliminates the hassle of having to switch between devices.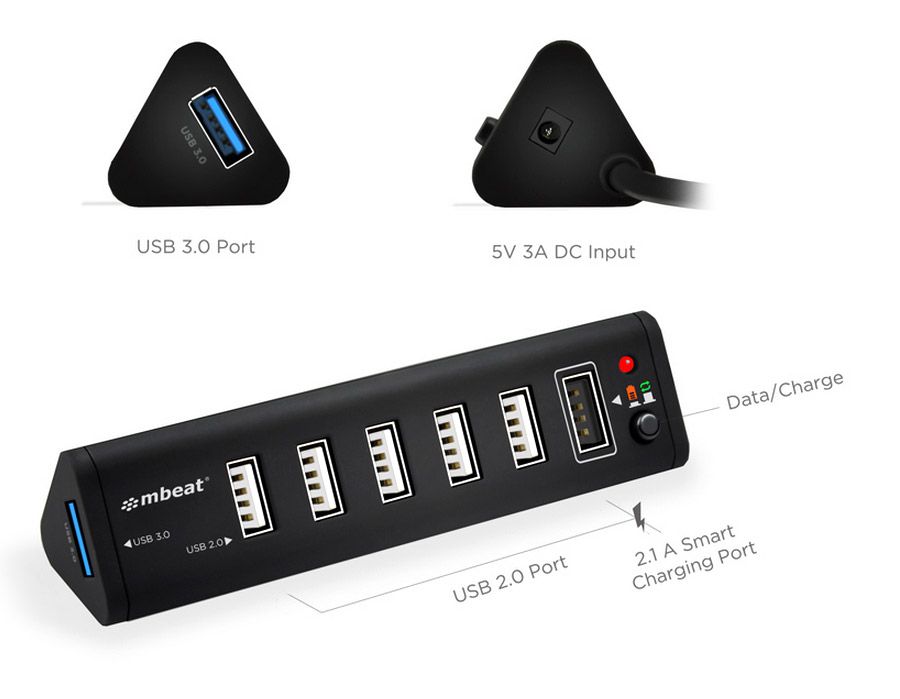 Easily add 7 USB ports to your PC or Mac and eliminate the hassle of having to switch between devices.
Serves as a data transfer hub and a fast USB charger.
The Smart Charging Port enables full-speed charges (up to 2.1A) to the smartphone and tablet.
The USB 3.0 port gives lightning speed of data transferring while the other six of 2.0 ports connect more peripherals.
Upwards-facing ports give wider berth for over-sized USB plugs.
External power supply ensures multiple devices work simultaneously and also provides enough power to fast charge your power-hungry devices.
Also compatible with USB 2.0 and 1.1 specifications, no driver required for Win XP/Vista/7/8 and Mac OS 10.2 and above.
Specifications:
USB Port: USB 3.0 x 1 , USB 2.0 x 6 (includes 1 Data/Charge Port).Data Transfer Rate: USB 3.0 up to 5Gbps, USB 2.0 up to 480Mbps.
Charging Port Output: 5V, up to 2.1A.
Power Supply Output: 5V, 3A.
Support OS: Win XP/Vista/7/8 and Mac OS 10.2+.
USB Hub Cable Length: 50cm
Product Dimensions: 12 x 3.1 x 2.8cm (L x W x H)
Product Weight: 60g
Package Dimensions: 19 x 14 x 8cm  (L x W x H)
Package Weight: 250g
Product Contents:
Unit, Power cord, Manual (inside box) 
Package contents:
mbeat® MB-HUB716 hub (cable length 0.5m)
5V 3A power adaptor (cable length 1m)
Instruction manual
Fast-Charging Compliant Devices:
Apple: iPhone 5 / 5s, iPad 2 / 3 / 4 / Air, iPad mini / mini 2
Samsung: Galaxy S2 / S3 / S4 / S5, Galaxy Note 1 / 2 / 3, Galaxy Mega,
Galaxy Mini, Exhilarate, Galaxy Tab 2 10.1, Tab 3 7 / 8/ 10.1, Note 10.1,
Note 10.1 2014
Google: Nexus 4 / 5 / 7 / 10
Sony: Xperia TX
Nokia: Lumia 920, Lumia 1020