Moki ChargeStand 10W Wireless Charger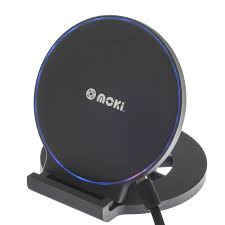 ---
---
Moki ChargeStand 10W Wireless Charger
---
---
Standard 10W Qi wireless charger suitable for use with existing 1A+ USB adaptors and PC's. Allows the device to lay flat or be propped up for easy viewing while maintaining charge. Ideal for those who need their screen visible for email and call
alerts while at work or for movies / gaming after hours.
Features:
Moki Wireless ChargeStands are designed to be used just about anywhere in the home, in the living room, the bedroom, or kitchen. A simple, no fuss way to charge a smartphone - great for home or in the office.
ChargeStand flips up to allow comfortable viewing angle 
LED indicator around circumference to show charge status
10W Qi Wireless Charger
Rubberised finish
Adjustable stand
MicroUSB Input
MicroUSB cable included
About Moki
Moki provides a cloud-native (SaaS) platform that makes it easy to secure, deploy, monitor, and control mobile devices at any scale. Our mobile device management (MDM) solution is ideal for multi-user single-purpose applications that traditional MDM can't effectively serve today. Additionally, we offer developer tools such as an SDK and APIs that allow customers the ability to integrate with the platform in a way that best meets the needs of their business.
Founded in 2012, Moki is trusted by hundreds of customers in over 55 countries including innovative brands like Moneygram, PayPoint and Clark's Shoes. Moki is now headquartered in San Antonio, Texas, and part of the Dura Holdings portfolio of companies.