Norton 360 Standard 2 Device 1 Year Email Key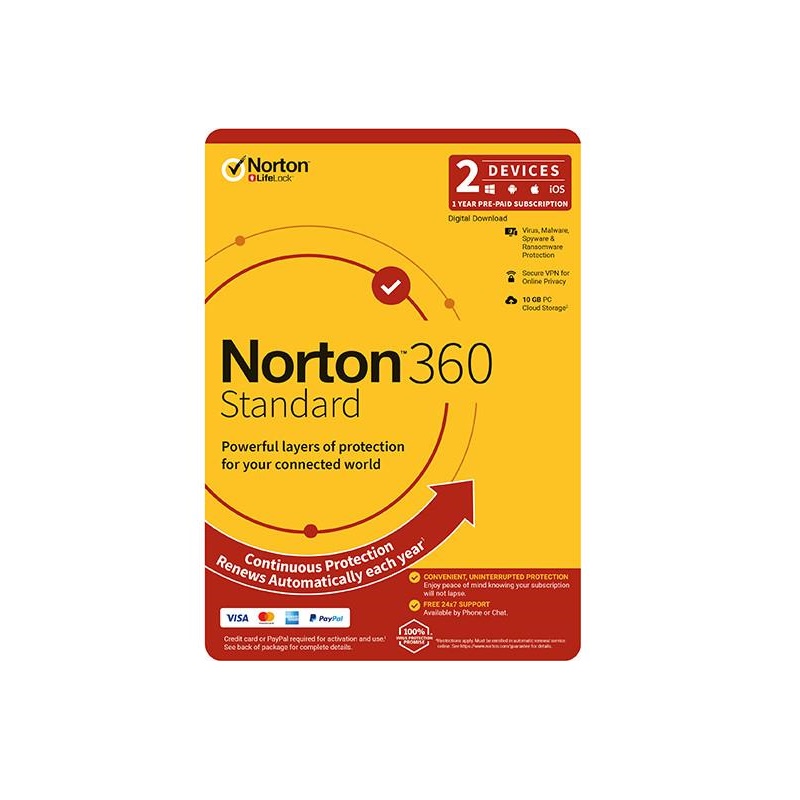 ---
---
Norton 360 Standard 2 Device 1 Year Email Key
---
---
Norton 360 Standard 2 Device 1 Year Email Key
Product key is emailed during business hours during Monday to Friday, excluding public holidays
NOTE: CREDIT CARD OR PAYPAL REQUIRED FOR ACTIVATION AND USE, No charge until renewal
Real-time Threat Protection
Advanced security with antivirus helps protect against existing and emerging online threats to your devices, and helps protect your private and financial information when you go online.
Secure VPN
Browse anonymously and more securely with a no-log Virtual Private Network (VPN). Add bank-grade encryption to help keep your information like passwords and bank account details secure and private.
Smart Firewall for PC or Firewall for Mac
Monitors communications between your computer and other computers and helps block unauthorized traffic.
Password Manager
Tools to easily generate, store, and manage your passwords, credit card information and other credentials online – more securely.
10GB PC Cloud Backup
Store important files and documents as a preventive measure against data loss due to hard drive failures, stolen devices and even ransomware.‡‡, 4
SafeCam for PC
Alerts you to attempts to access your webcam and helps you block unauthorized access to it.5
Protection so good, it's backed by a full refund.2
We're so confident in our antivirus and malware protection that if you're a current Norton service subscriber and you get an infection on your device that our experts can't remove, you get a full refund.2 That's assurance you can't get from free software.
Multiple layers of protection for your device and online privacy– all in a single solution
Norton 360 Standard provides comprehensive malware protection for a single PC, Mac, Android or iOS device, plus Cloud Backup4, ‡‡ for PC to help prevent data loss due to ransomware or hard drive failures and a Password Manager to store and manage your passwords.
Norton 360 Standard also includes a VPN that enables you to browse the web more securely and anonymously, even on public Wi-Fi, and SafeCam5 for PC that alerts and help you block unauthorized access to your webcam.
You would also love