Razer BlackWidow - Mechanical Gaming Keyboard - US Layout FRML (Green Switch)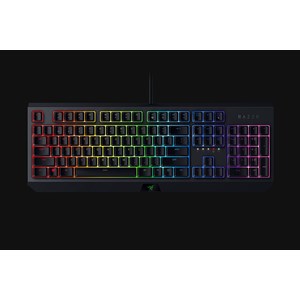 ---
---
Razer BlackWidow - Mechanical Gaming Keyboard - US Layout FRML (Green Switch)
---
---
Razer Blackwidow Mechanical Gaming Keyboard
THE MOST ICONIC MECHANICAL GAMING KEYBOARD
Since its inception, the Razer BlackWidow name has been synonymous not just with precision but also the tactile and clicky feel of its switches that gamers love. We've fine-tuned our mechanical switches to unlock the highest level of gaming performance yet with the latest edition of the Razer™ Green Mechanical Switch. Game on with total clicky satisfaction and Razer Chroma™ lighting with the new Razer BlackWidow.
TACTILE AND CLICKY
Mechanical keyboards are popular among gamers due to their tactile and clicky feel—a signature feature of the Razer™ Green Mechanical Switch. Each switch is also equipped with side walls for greater stability and protection against dust and liquids, and is durable up to 80 million keystrokes, making the Razer BlackWidow reliable for everyday gaming.
IMMERSIVE GAMING WITH RAZER CHROMA™
The Razer BlackWidow lets you experience full gaming immersion with Razer Chroma™. It showcases up to 16.8 million colors in varying effects such as Spectrum Cycling, Wave, Breathing, and Ripple, and reacts to in-game events when playing Razer Chroma Integrated games.
UNLOCK EXTENDED CONTROLS WITH RAZER HYPERSHIFT
Razer HyperShift gives you an edge when it comes to speed and execution. Assign any key as your HyperShift key, and hold it down to unlock a secondary function on every key. Doubling the function of keys near your keyboard hand lets you execute moves much quicker than reaching for farther keys when gaming. This extends your options on top of normal rebinding and macros, maximizing your in-game controls for lightning fast reactions.
HYBRID ON-BOARD MEMORY AND CLOUD STORAGE
The Razer BlackWidow lets you save up to 5 profile configurations with its on-board memory so you can load your personalized settings wherever you go. You can also activate an unlimited number of custom profiles when you save them on the cloud.