Razer Electra Gaming & Music Headset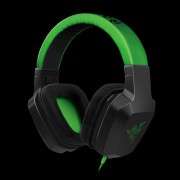 ---
---
Razer Electra Gaming & Music Headset
---
HEARZELECTRA 0879862003227
---
Hit the streets fearlessly when you've got your music and mobile gaming audio powered by the Razer Electra. Hear the high scores racking up on your smartphone or the thumping bass of a rocking song in absolute crisp clarity as the slick headphone deliver every sound and note with great depth and balance.
Featuring thick leatherette ear cushions that mold to the shape of your ears, and optimally positioned ear cups to boost sound isolation, you'll only hear good vibrations at all times. With a flexible headband structure and lightweight frame, the Razer Electra was designed for long-lasting comfortable wear so you can stay plugged into the soundtrack of your life with no fatigue. Make communication easy just by swapping out your audio cable for one with a microphone.
Keep the rhythm going and fight on when you wear the Razer Electra, for gaming on the go.
Enhanced bass response
Heavy beats and thrumming basslines are powerfully reproduced with balance and clarity, thanks to finely tuned drivers that deliver uncompromising audio quality, whether you're destroying a game or out on the streets plugged into your tunes.
Superior sound isolation
Seal the good stuff in and keep the noise out with optimally positioned ear cups and premium leatherette ear cushions that mold perfectly to the shape of your ears.
Built for long-lasting comfort
Maximum comfort and good ventilation - the two most important things when it comes to wearing headphone over extended audio play. And the Razer Electra provides just that with its flexible headband structure and lightweight body, so you can keep the soundtrack to your life pumping.
 All the pictures are for illustration purposes only, specifications subject to change without notice