Roccat CROSS Multi-platform Over-ear Stereo Gaming Headset with Mic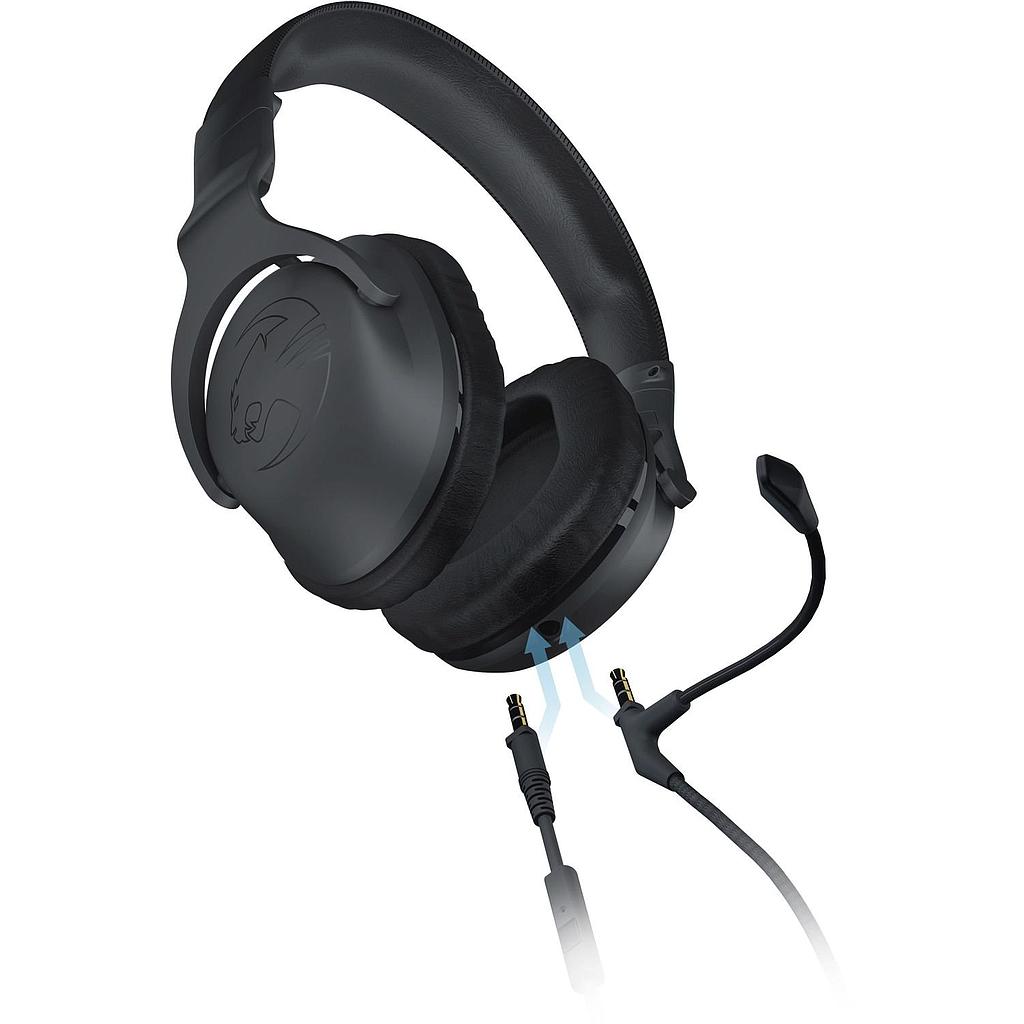 ---
---
Roccat CROSS Multi-platform Over-ear Stereo Gaming Headset with Mic
---
---
DESCRIPTION
Roccat CROSS Multi-platform Over-ear Stereo Gaming Headset
- 50mm Neodymium Magnet Drivers
- Memory Foam Earpads
- In-Line & Boom Microphones
- Detachable Anti-Tangle Cables
- Compatible with Multiple Platforms
ROCCAT® Cross – Multi-platform over-ear stereo gaming headset
As gamers ourselves, ROCCAT® understands that times have changed and gaming has evolved. Gaming has gone multi-platform and become ubiquitous. Gamers want a refined, fluid experience that they can enjoy everywhere rather than awkwardly swapping between expensive peripherals that are limited to a single device. They want one single headset that replaces all of their other ones – one headset for everything, with nothing else needed. That's why we developed the Cross specifically for YOU, not your device. The Cross is the multi-platform over-ear stereo gaming headset that's equally at home on your PC, Mac, PS4 and Xbox One* as it is when you're on the go with your mobile device. It's the headset that's outstanding, everywhere.
World-beating sound
High portability doesn't mean low quality sound. The Cross is designed as a primary headset for world-beating audio everywhere, not a secondary device with convenience as its only benefit. Head and shoulders above the competition in its class, the Cross provides unmatched audio quality. It features large 50mm neodymium magnet driver units for studio-grade stereo sound with deep bass, perfect for gaming, calls, music and movies. With earcups and driver units aligned perfectly to your ear, it guarantees top quality sound at home and on the go.
Multi-platform
Designed for today, adaptable to the future. That is the ROCCAT® philosophy, and the Cross has it ingrained in its DNA. It represents a headset optimised for every gamer's portfolio of devices. That means that whether you're playing a mobile game while waiting for your bus or hours into a marathon PC-gaming session, it's perfect for each scenario. Not only is it compatible with all the leading devices such as PC, Mac, mobile, PS4 and Xbox One*, it's purpose built with them in mind, for a totally fluid experience for gamers.
Dual microphones
In line with its promise to offer a fluid, multi-platform experience, the Cross comes complete with dual microphones – one designed for PC and one designed for mobile. Each of the two mics is built in to an anti-tangle cable, both of which are provided with the Cross. The mics are detachable and plug into a neatly-placed port on the underside of the left earcup. Out and about? Use the discreet and unobtrusive in-line mic. Gaming at home? Use the boom-arm mic. Swappable in seconds.
Style & comfort
Unmatched audio quality and seamless adaptability are worth nothing if the ergonomics aren't on point. And why rock it on the streets if it doesn't look fresh? The Cross solves this by focusing down on what style and comfort means in terms of gaming audio. The result is an on-trend headset with an understated black design. It provides a snug, streamlined fit with memory foam earpads that adapt uniquely to each wearer provide a new level of comfort. At only 185 grams in weight, it's over 70 grams lighter than competing headsets in the same class. Despite its weight, it's durability and robustness are outstanding, for superior comfort that can keep up with your lifestyle.
Specifications:
DRIVER UNITS
Frequency response: 20∼20000Hz
Impedance: 32Ω
Max. SPL at 1kHz: 98dB
Drive diameter: 50mm
Driver unit material: Neodymium magnet
MICROPHONE
Sensitivity at 1kHz: -42dB
Impedance:2.2kΩ
Signal-to-noise ratio:58dB
GENERAL
Weight (Headset only): 185gr
PC cable length:2.35m (detachable)
jack plug: dual plug 3.5mm (3-pin)
Mobile/Console cable length: 1.2m (detachable)
jack plug:single plug 3.5mm (4-pin TRRS CTIA)
Dimensions / Weight
Width 14.9 cm, Height 19.6 cm, Length 8.0 cm, Weight 185 g
System requirements
3.5mm jack socket required
Australian Flush Plate, FP-RCA-GRN, Generic, P4646GRN, Wall Plate Adapter Tags: ACCROC-HS-CROSS, ROC-HS-CROSS, Roccat CROSS Multi-platform