Simplecom CHN411 USB C to 3 Port USB 3.0 Hub & Gigabit NW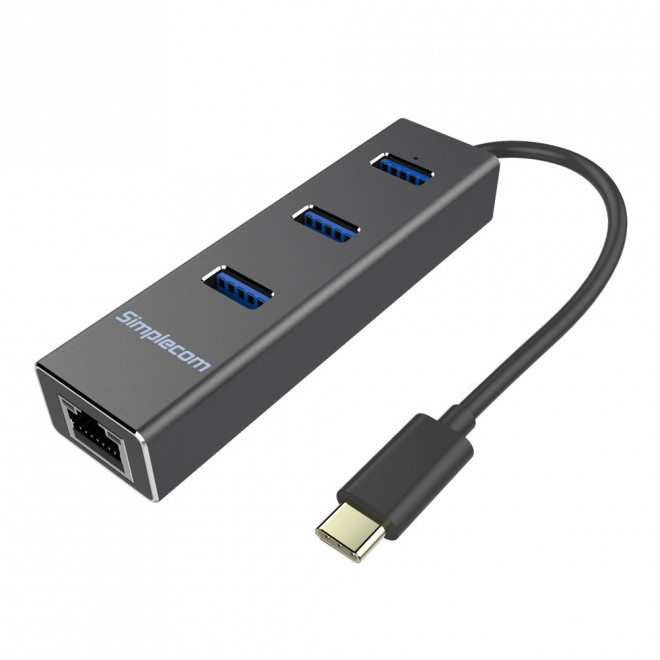 ---
---
Simplecom CHN411 USB C to 3 Port USB 3.0 Hub & Gigabit NW
---
---
QUICK OVERVIEW
Expands single USB Type C interface to three USB 3.0 ports and a Gigabit Ethernet port
Aluminium Unibody Design, Compact and Durable 
Theoretical maximum transfer of up to 5Gbps for three USB 3.0 ports
The Gigabit Ethernet port supports up to 1000Mbps and downwards compatible with 10/100Mbps
Compatible with IEEE 802.3, IEEE 802.3u, IEEE 802.3ab, IEEE 802.3az (Energy Efficient Ethernet)
Supports full duplex operation with IEEE 802.3x flow control and half duplex operation with back-pressure flow control
Supports IPv4/IPv6 protocols, dual channel transfer mode, automatic transfer and data stream reversing regulation
The LED indicator on the top of hub shows the working status of USB data transfer; while the two LEDs near Ethernet adapter indicate network connection and connecting status
Integrated Ethernet driver, Supports Hot Swap, Plug & Play
Support Windows 7 and Above, Mac OS X 10.6 and Above
Next Generation USB Type-C reversible connector
The USB Type C interface on the USB data cable could bridge your PC or Mac with connected devices perfectly. Specially designed for latest generation of computers and smart devices that have USB-C ports.
Premium Aluminium Unibody Design, Compact and Durable
CHN411 is sturdy and durable with premium aluminium unibody. Sleek and simple designed with 3 USB 3.0 ports on the top and an innovative built-in RJ45 Gigabit Ethernet adapter on the end, accommodate your collection of USB device without cluttering your desk space.
Rapid and stable Data Syncing
Superspeed 3 USB 3.0 ports inserted with the quality controller chipset, behave as rapid and stable data syncing; provide up to 5Gbps data transfer rate (actual transmission speed is limited by the setting of the device connected).
Top fast Network speed
The Ethernet USB 3.0 hub has a built-in Gigabit Ethernet Adapter. It is an upgraded USB 3.0 hub which endows your PC with a Gigabit Ethernet port which accesses superfast network speed up to 1000Mbps and downwards compatible with 10/100Mbps.
Features
Expands single USB Type C interface to three USB 3.0 ports and a Gigabit Ethernet port
Aluminium Unibody Design, Compact and Durable 
Theoretical maximum transfer of up to 5Gbps for three USB 3.0 ports
The Gigabit Ethernet port supports up to 1000Mbps and downwards compatible with 10/100Mbps
Compatible with IEEE 802.3, IEEE 802.3u, IEEE 802.3ab, IEEE 802.3az (Energy Efficient Ethernet)
Supports full duplex operation with IEEE 802.3x flow control and half duplex operation with back-pressure flow control
Supports IPv4/IPv6 protocols, dual channel transfer mode, automatic transfer and data stream reversing regulation
The LED indicator on the top of hub shows the working status of USB data transfer; while the two LEDs near Ethernet adapter indicate network connection and connecting status
Integrated Ethernet driver, Supports Hot Swap, Plug & Play
Support Windows 7 and Above, Mac OS X 10.6 and Above