Simplecom DA310 USB 3.1 Type C to HDMI USB 3.0 Adapter with PD Charging (Support DP Alt Mode and Nintendo Switch)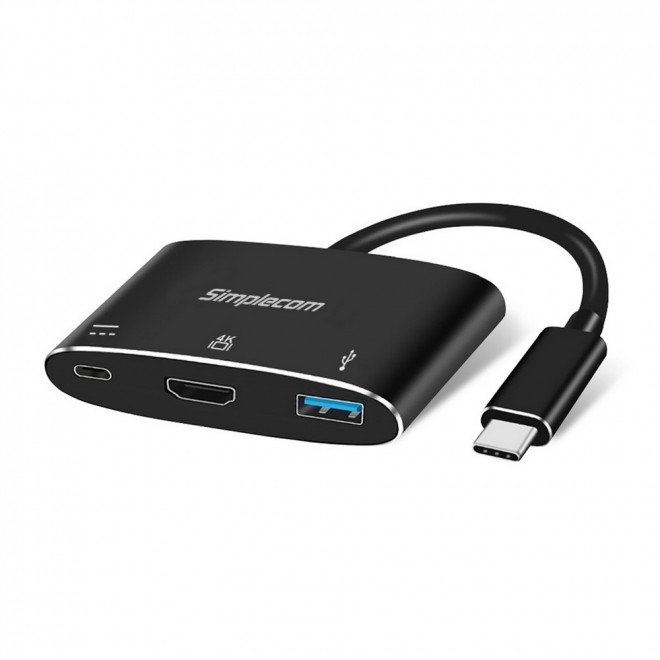 ---
---
Simplecom DA310 USB 3.1 Type C to HDMI USB 3.0 Adapter with PD Charging (Support DP Alt Mode and Nintendo Switch)
---
---
QUICK OVERVIEW
Reversible USB-C 3.1 interface, plug it in either direction
No driver or software required, plug and play
Compatible with Mac OS, Linux, Windows and Android operating system*
Compatible with phone or computer with DisplayPort Alternate Mode (DP Alt Mode)
Compatible with Nintendo Switch
USB 3.0 Speed Data Transferring Speed up to 5 Gbps
Fast Charging via USB-C PD port
Simplecom DA310 USB 3.1 Type C to HDMI USB 3.0 Adapter with PD Charging
DA310 is an USB-C Multiport Adapter that specially designed for carrying high definition video to an HDMI monitor, TV or projector. It supports video resolution up to 4K, while also connecting USB-A device and USB-C charging cable. It lets you connect exist USB peripheral and charge your connected device while other ports are working.
Enhanced Compatibility 
Support DisplayPort Alternate Mode (DP Alt Mode) enabled devices with USB Type C port, such as Windows laptop, MacBook, Chromebook, smartphone and more. It also compatible with game console like Nintendo Switch, so you can replace the large original dock with this portable adapter.
4K HDMI Video Output
Enjoy an HD film at home by connecting a tablet or ultrabook to TV via the 4K video adapter! The adapter can also be used at various occasions, such as on a meeting to project files and slideshows to a larger screen by connecting to a projector.
High Speed USB 3.0 Port
USB 3.0 port with a maximum transfer speed up to 5Gbps. It allow you to connect keyboard, mouse, thumb drive or other USB devices.
Type C Female PD Port 
The USB Type C PD Port can charge your connected device while other ports are working. The USB Type C port supports up to 60W Power Delivery charging.
Aluminium Casing
To ensure stable performance and protect the circuit, the metal shell facilitates the heat dissipation when the chip and hub work.
Features
Reversible USB-C 3.1 interface, plug it in either direction
No driver or software required, plug and play
Compatible with Mac OS, Linux, Windows and Android operating system*
Compatible with phone or computer with DisplayPort Alternate Mode (DP Alt Mode)
Compatible with Nintendo Switch
USB 3.0 Speed Data Transferring Speed up to 5 Gbps
Fast Charging via USB-C PD port
Specification
Connector: USB-C 3.1
Ports: HDMI (female), USB A 3.0 (female), USB-C (female, for charging only)
USB-C Power Delivery: 60W Max with PD 2.0 (20V/3A, 15V/3A, 9V/2A, 5V/2A)
HDMI output resolution: Up to 3840 x 2160P/ 30Hz (4K*2K)
Dimensions: 73x37x15mm (LxWxH)
Cable Length: 10cm
Weight: 45g
Note:
*Before purchasing, please don't only check operating system, you also need to confirm the USB-C port on your device supports DisplayPort Alternate Mode (DP Alt Mode). Some USB-C ports only work for charging or data transfer, no video output function.