Viewsonic VA2710-MH 27IN WIDE IPS-LCD FHD (1920X1080) HDMI VGA SPEAKERS 2X 2W 3.5MM AUDIO JACK TILT VESA 3 YEARS WARRANTY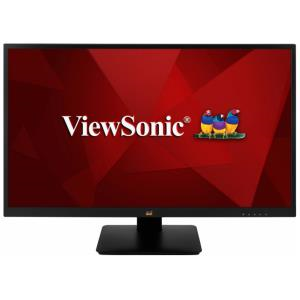 ---
---
Viewsonic VA2710-MH 27IN WIDE IPS-LCD FHD (1920X1080) HDMI VGA SPEAKERS 2X 2W 3.5MM AUDIO JACK TILT VESA 3 YEARS WARRANTY
---
---
· 27" FHD 1920x1080 @60Hz Display with 300 cd/m2 brightness
· Rich, vivid colour with consistent levels of brightness with SuperClear® IPS Technology
· Dual integrated stereo speakers deliver room-filling surround sound
· Narrow 10mm Bezel Design for Seamless Viewing
· Flicker-Free and Blue Light Filter formed-Eye Care Technology
The ViewSonic VA2710-MH 27" FHD IPS LCD Monitor (VA2710-MH) is designed to provide crystal clear images at work or in the comfort of your home. Featuring a top-tier IPS panel with better colour accuracy and a 10mm narrow bezel, you get to see more screen with vibrant colours compared to earlier generation LED screens. Two built-in 2W speakers provide high-quality audio. VGA and HDMI input ports give you flexible options to connect different source devices.
SuperClear IPS
Watch from almost any angle and see the most vivid pictures with the SuperClear IPS panel technology that offers wide 178° viewing angles.
Upgrade your setup with the ViewSonic VA2710-MH 27" FHD LCD monitor and get to view the best quality images in Full High-Definition resolution.
VIEWSONIC
VA2710-MH
VALUE AND PERFORMANCE FOR YOUR HOME
An IPS panel with Full HD Resolution (1920x1080).
Integrated Flicker-Free and Low Blue Light modes enhance viewing comfort.
Built-in 2x2W Speakers for basic multimedia usage.
IPS PANEL DELIVERS INCREDIBLE COLOUR
Built around an IPS panel, the VA2710-MH displays vibrant colour, improved black depth and wide 178°/178° viewing angles.
HDMI AND SPEAKERS
2 x 2-watt speakers are included to pair with the HDMI on this monitor, allowing you to connect to a variety of devices with ease.
EYE COMFORT
The VA2710-MH includes Flicker-Free backlight technology and a Blue Light Filter, to eliminate eyestrain, allowing users to work longer and more comfortably.
3 YEAR WARRANTY
Covered by a comprehensive ViewSonic warranty, including a 30 day perfect pixel period and a three year onsite pickup and return warranty for all other issues.
SPECIFICATIONS
Panel:
Viewing Angles:
178° / 178°
Interface:
Audio:
Power:
VESA:
Eye Care:
Ergonomics:
Weight:
Dimensions (LxWxH):
Physical:
625 x 436 x 185mm
Without Stand:
625 x 373 x 51mm
Cables: